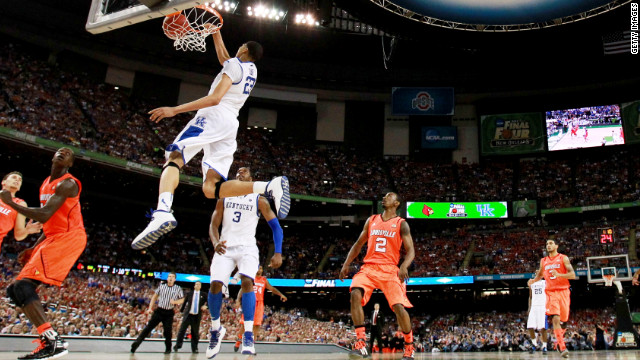 Take a trip with WGEM SportsCenter host, Josh Houchins, as he recaps the weekend in his own weird way. And make sure to follow him on Twitter.
* I wish I had a good April Fool's Day joke from over the weekend for you, but I don't. I feel after the age of 10, you are not allowed to celebrate that day. But then again Lance Berkman did pull a pretty good one on teammate Adam Wainwright.
* Let's talk college hoops, why don't we (and not the fact that Louisville's jerseys were orange and not red). I really thought we would see Kentucky slip up at some point and play like freshmen and sophomores, which is what a majority of the team is made up of, but the Wildcats have been constant pros. If that's coach John Calipari's work, then it's a huge tip of the hat to him and he does belong back in the NBA like some believe. Now, if that's a testament to the players being mature beyond their years, then this Kentucky team will win tonight (prediction at end) and will be remembered as one of the better stories, and teams, of the past 20-30 years.
* Wow, did Anthony Davis throw down some alley-oops versus Louisville.
* It's time to stop feeling bad for Ryan Leaf and say the dude has a major problem. For awhile there, I thought he making strides. Now? Not so much.
* I was told Wrestlemania was last night. I haven't watch wrestling since the 80s, which leads me to this photo gallery from SI.com of a bunch of old wrestlers. Disappointed no pics of The Rock 'N' Roll Express, though!
* How impressive has Baylor University been so far this year? You could seriously say no university has been in front of the media (for good reasons) more than the Bears. Growing up, Baylor was a joke — a team you really knew nothing about. But, as of late it has been all about them. Baylor has come a long way from where it was in 2003.
* Awesome news for all parties hearing that Ceola Clark will have a sixth season of eligibility for WIU next season. All parties include coach Jim Molinari, and us, the media. That only makes them better, which (selfishly) makes the Leathernecks more interesting.
* I like award shows, but you will not find me watching the Academy of Country Music Awards that was on last night. Now, you will find me posting a picture of Carrie Underwood (right) before the show on the red carpet and looking perfect!
* "Sign of the Weekend" goes to random girl at Boston Bruins game. You have to admit that it's pretty stinking clever!
* Last night was a like a holiday for me. Season 2 of Game of Thrones on HBO debuted and it was awesome. That channel understands the art of being cinematically (that a word?) realistic. Season 2 may not live up to the initial season, but rumors months ago started flying that HBO had ordered Seasons 3 & 4 to be shot back-to-back puts a HUGE smile on my face. Knowing what the books have to offer leads to what will become one of my favorite series of all-time.
* Oh, and favorite character in Season 2 of GoT will without a doubt be The Hound. He's a bad you-know-what.
* I posted this on my Facebook page last week for my social media friends and now would like to post for my blog friends. It's the second-best version of Bohemian Rhapsody you will ever hear!
* And Finally, tonight's prediction: Kentucky 76, Kansas 70.
–HOOCH
The host of the only morning sports talk show in the Tri-states, Josh Houchins has been with WGEM since the Fall of 2006 and full-time host of WGEM SportsCenter shortly after. WGEM SportsCenter is dedicated in bringing local, regional, and national topics to a local audience from 7-9 on weekday mornings. * ESPN 1440 AM (also available w/ Android and iPhone app by searching WGEM ESPN 1440) * WGEM.com/sports